LMU and Place Series present 'A Conversation with Archbishop Gomez'
January 30 from 7:00 pm

to

9:00 pm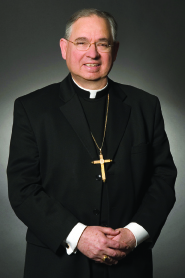 Loyola Marymount University cordially invites you to join President Timothy Law Snyder, Ph.D., for a celebration to honor José H. Gomez, Archbishop of Los Angeles. The university will bestow upon the archbishop an honorary Doctor of Humane Letters in recognition of his leadership role with the United States Conference of Catholic Bishops and dedication to immigration reform, social justice and the future of Catholic education.
The evening will begin with the honorary degree conferral ceremony followed by the archbishop's lecture in support of the Academy of Catholic Thought and Imagination's conversation on "The Idea of the Catholic University in the 21st Century." He will speak on the charisms and obligations of the Catholic university in the contemporary context, with particular attention to Southern California.
A facilitated conversation, including a Q&A, will follow the archbishop's remarks; all attendees are invited to submit questions.
Reception to follow.
The event is free and open to the public with RSVP.
For more information, visit www.academics.lmu.edu/ideaoftheuniversity/eventsandprograms/jan30archbishopgomez/.