Identify plant and animal species during a Community Science Bioblitz at Marsh Park
November 18, 2017 from 1:00 pm

to

4:00 pm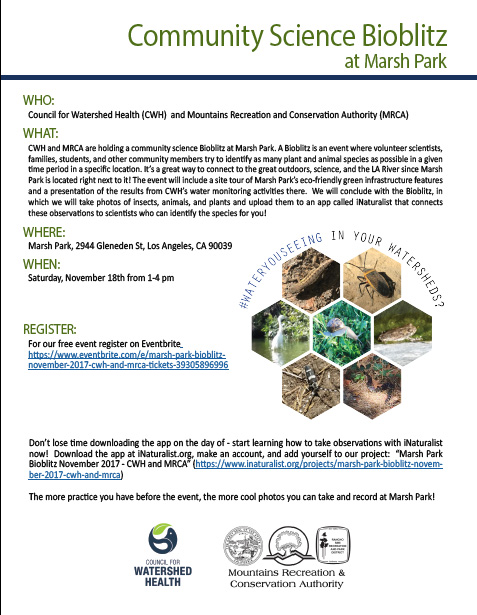 The Council for Watershed Health (CWH), and Mountains Recreation and Conservation Authority (MRCA), are holding a Community Science Bioblitz at Marsh Park in Los Angeles.
A bioblitz is an event where volunteer scientists, families, students, and other community members try to identify as many plant and animal species as possible in a given time period in a specific location.
It's a great way to connect to the great outdoors, science, and the L.A. River since Marsh Park is located right next to it!
The event will include a site tour of Marsh Park's eco-friendly green infrastructure features and a presentation of the results from CWH's water monitoring activities there.
We will conclude with the Bioblitz, in which we will take photos of insects, animals, and plants and upload them to an app called iNaturalist that connects these observations to scientists who can identify the species for you.
Register on Eventbrite at www.eventbrite.com.
Don't lose time downloading the app on the day of. Start learning how to take observations with iNaturalist now. Download the app at www.iNaturalist.org, make an account, and add yourself to our project: "Marsh Park Bioblitz November 2017 — CWH and MRCA" (at www.inaturalist.org/projects/marsh-park-bioblitz-november-2017-cwh-and-mrca).
The more practice you have before the event, the more cool photos you can take and record at Marsh Park.