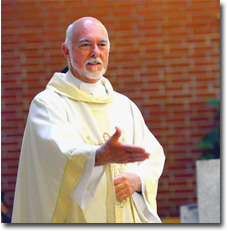 Welcome to St. Bernard Roman Catholic Church!
As we approach our 93rd anniversary, we enter the final years leading up to the celebration of 100 years of faith. What a gift! What a promise! We are grateful for everyone who has passed through the sacred doors of our humble church, from the founding of the parish to the present.
We welcome your visit, your participation, your belonging with us and service among us. We are here to know the Lord and grow in the Lord. His way, we seek, to become our way and through it to celebrate the life that he gives in such abundance.
Our parish, our school, our faith formation programs — all are at your service and welcome your participation. Bring your gifts of faith and love, and walk with us on the journey of faith!
Rev. Perry D. Leiker,
pastor